Compact industrial remote control - JMei Pocket
Browse the technical data sheet
Description
The JMei Pocket remote control can be used as a standard device for various handling applications such as cranes, breakdown lorries, concrete-pump lorries, lifting equipment, construction machinery, access gates, etc.
Its compact transmitter has been designed for ergonomic use and to improve operational performance and safety.
Its receiver unit with integrated commands compensates for the disadvantages of not having a transmitter (lost or damaged).
The receiver unit keyboard may be protected by a password.
Automatic selection of the frequency channel avoids interference with other radio systems.
Several transmitters can be combined with a single receiver unit, which is a great advantage for use in access authorisation.
Advantages
Receiver unit with integrated controls.
Automatic RF channel selection.
Rapid pairing of transmitters.
Can be password-protected.
Fast and easy installation.
Ergonomics - lightness.
Very competitive.
---
Applications
Trailers.
Winches.
Hydraulics.
Industrial control.
Door - industrial access barrier.
---
Production examples
JMei Pocket - carrying clips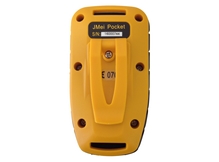 Ultra-compact transmitter
Silicone protection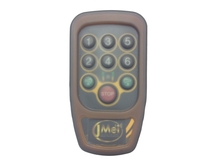 Compact receiver unit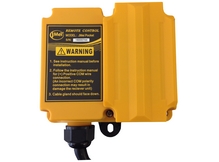 Universal radio control assembly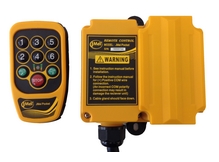 Receiver unit with access code